Jacksonville, IL, Manufacturing Month Spotlight on Reynolds Consumer Products and Nestlé USA
Monday, November 01, 2021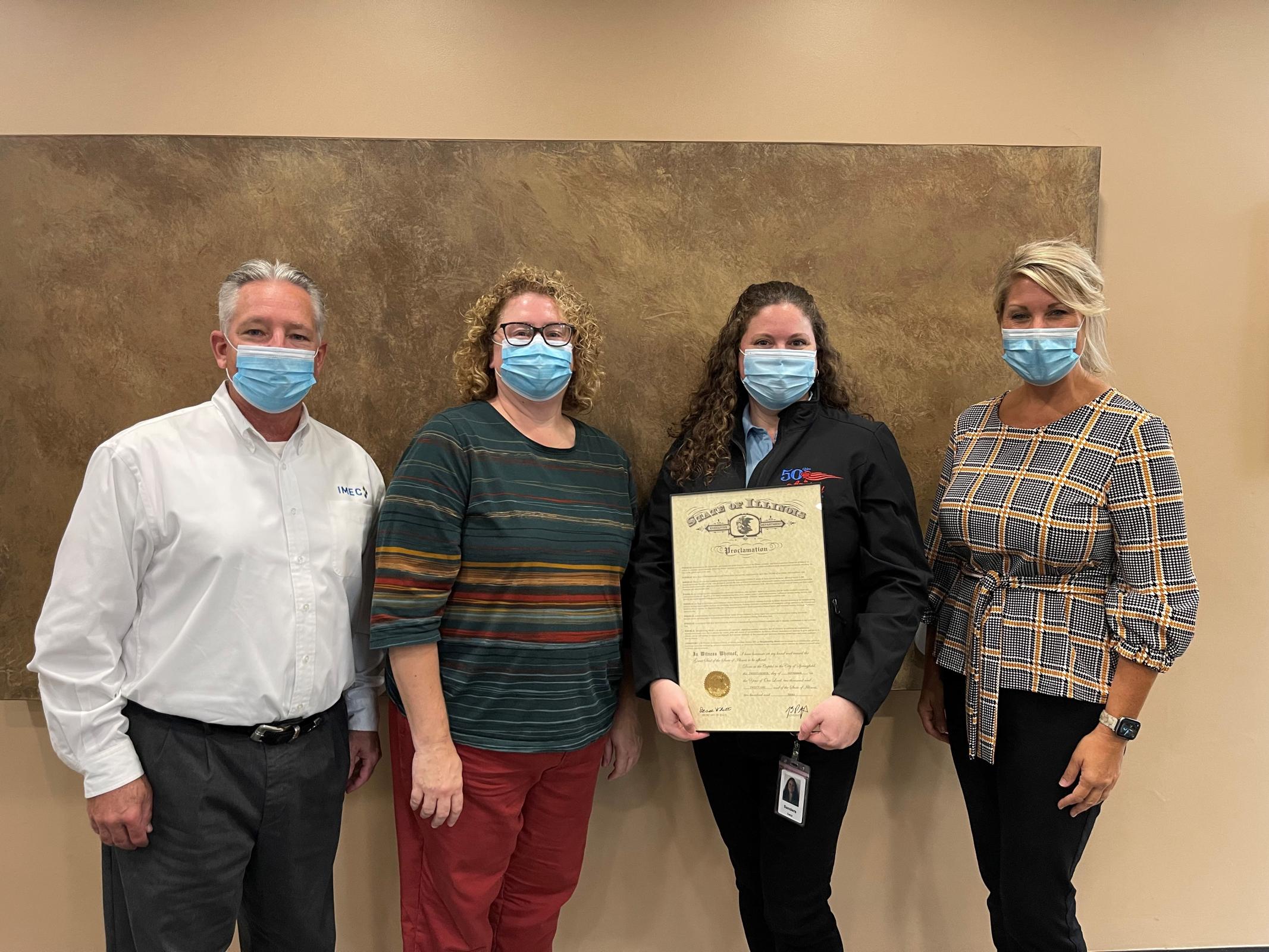 Jacksonville, IL, is home to global manufacturing companies that are producing goods using the latest technologies and innovations. Jacksonville Regional Development Corporation (JREDC) used Manufacturing Month as an opportunity to celebrate these companies for their employment opportunities and innovations that grow our economy. Manufacturing creates careers that are full of possibilities for advancement and stability.
"Morgan and Scott County manufacturers employ approximately 2,200 people in our communities," said Kristin Jamison, JREDC President. "Reynolds Consumer Products and Nestlé create products we use in our households every day by employing impressive, state-of-the-art manufacturing techniques. Both facilities are key employers in the Jacksonville region, and we thank them for their continued commitment to the Jacksonville region."
The Illinois Department of Commerce and Economic Opportunity's Economic Development team presented a Manufacturing Month proclamation to both Reynolds Consumer Products and Nestlé on behalf of Illinois Governor, J.B. Pritzker.
Reynolds Consumer Products
Reynolds Consumer Products was formed in 2010 as a new consumer products company with strong legacy brands like Reynolds Wrap® aluminum foil, Reynolds Kitchens® parchment paper, plastic wrap, oven bags and slow cooker liners, as well as the Hefty® brand. Hefty® is known for strong, dependable waste bags, slider bags, plates and cups. The products have been trusted for generations, and still are today.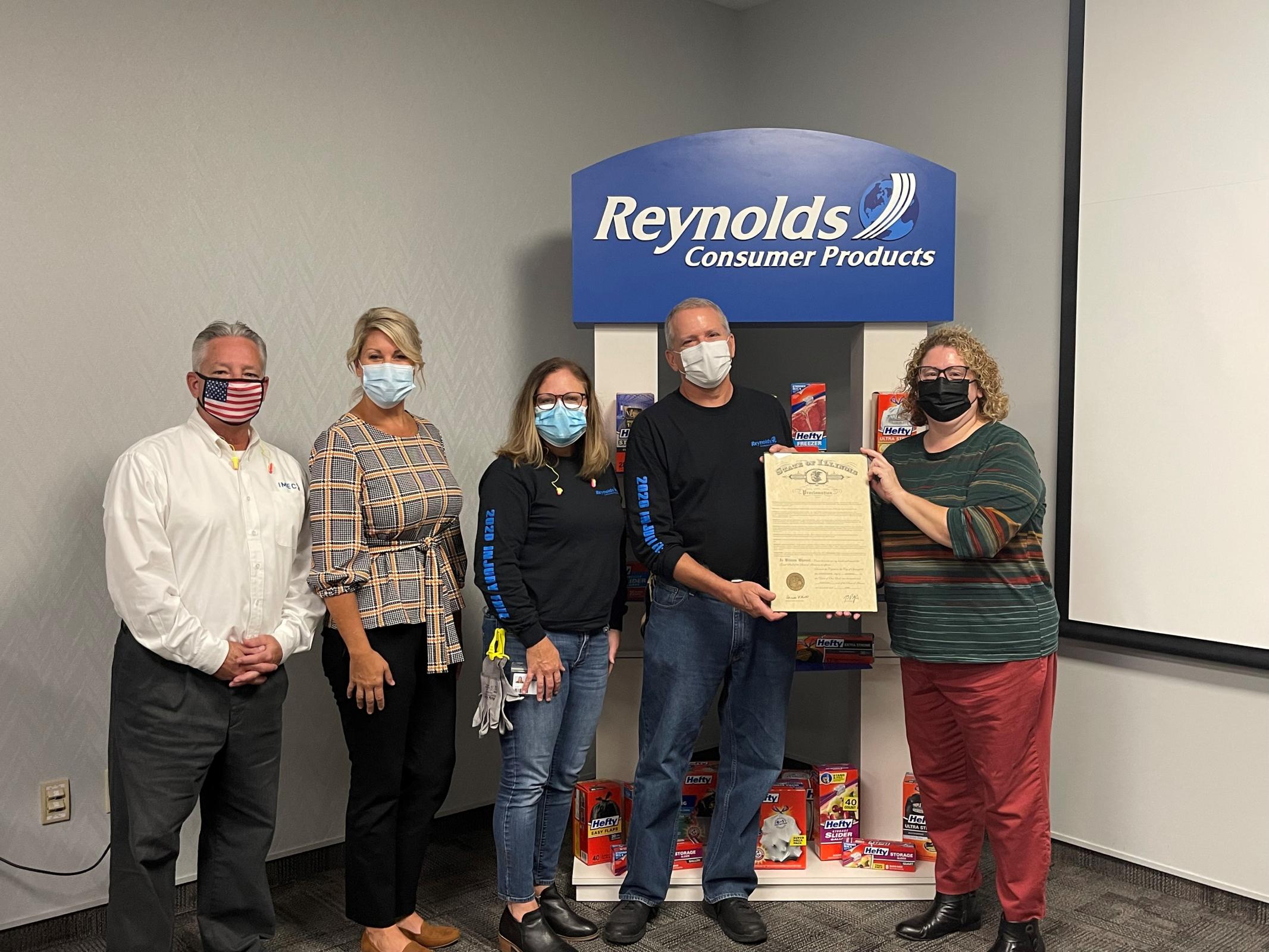 Reynolds Consumer Products has two plants in Jacksonville. The West plant specializes in Hefty® trash bags, and the East plant focuses on Hefty® slider food bags; both products are sold nationwide.
"With over 750 employees at the Jacksonville Operation, Reynolds Consumer Products strives to remain active in the local community," said Rick Villa, Plant Manager, Reynolds Consumer Products. "At RCP, we feel that community support, involvement and growth is critical to the success of our business. Recognition of these efforts through the recent Chamber of Commerce Business of the Year award and the Proclamation from the Governor's office helps us to understand that we at RCP are moving in the right direction."
Reynolds Consumer Products is the second largest employer in the Jacksonville Region, second only to Jacksonville Memorial Hospital.
"We were excited to tour the Illinois Department of Commerce and Economic Development, Jacksonville Regional Economic Development Corporation and the Illinois Manufacturing Excellence Center through the Jacksonville RCP Operation," said Villa. "We are proud of the progress we continue to make in the plant to improve our processes and facility in order to remain an employer of choice in the Jacksonville area. Through strong teamwork, we will be able to continue to link our employment opportunities to the employment needs of the community."
Nestlé USA
Nestlé USA has a 225,000-square-foot facility located on 30 acres just northwest of Jacksonville that employs around 170 employees. It is the sole producer of Coffee mate powdered creamer in the U.S.
"We are very proud of our factory's 51 years in Jacksonville, and are fortunate to be part of such a strong community," said Caryl Sanders, Factory Manager, Nestlé USA. "Jacksonville has been a critical part of our brand's history, and we look forward to a bright future in the area."
Growth in the Illinois Manufacturing Sector
Manufacturing's importance in Jacksonville and throughout Illinois is due to the sector's stability and growth. Point of fact, manufacturing accounts for 12.05 percent of the total output in the state, according to the National Association of Manufacturers (NAM). In 2019, the total output from manufacturing was $106.68 billion.
An average of 555,000 people work in the Illinois manufacturing industry, and as reported by NAM, they received an average annual compensation of $90,506.17 in 2019. Upon graduating high school or trade school, students can begin working for one of Illinois' manufacturing companies and within a few years, reach a level of income that surpasses the average household income in the United States.
Jacksonville Regional Economic Development Corporation
JREDC is your time-saving connection for resources that accelerate your project by providing the facts, statistics and figures businesses need. Email JREDC or phone 217-479-4627 for specific information on available buildings and sites, financing, incentives, labor market information, tax information, demographics, traffic counts, retail sales data, economic indicators and trends as well as zoning information. Follow JREDC on Facebook!