Learn How JREDC Engages Creative Workforce Solutions
Tuesday, May 31, 2022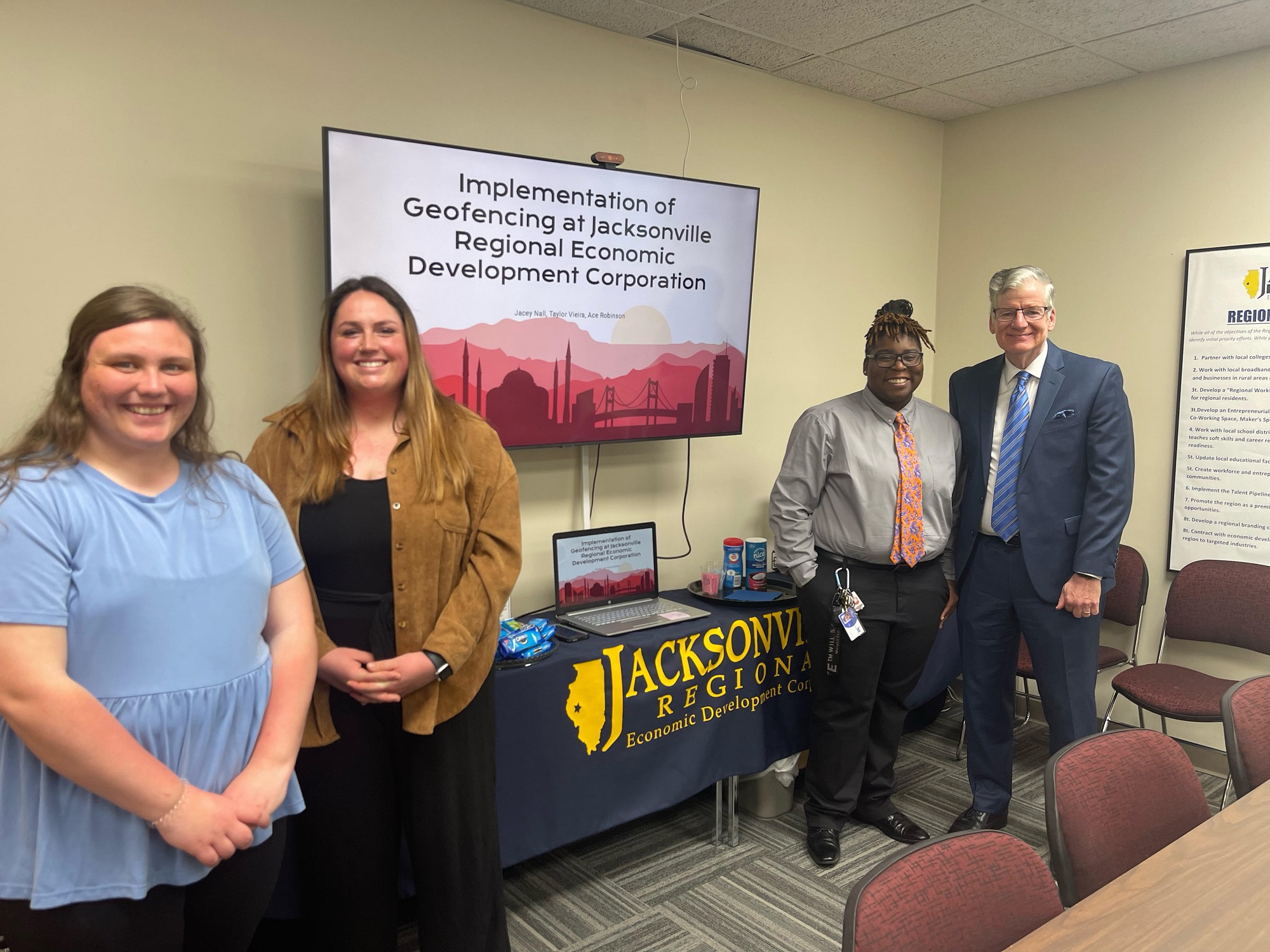 Competition for skilled workers in today's economy is tight, and Jacksonville Regional Economic Development Corporation (JREDC) recognizes creative approaches are required for workforce attraction and retention. JREDC leveraged Jacksonville's advantage as a college town by partnering with Illinois College business majors completing their senior capstone projects, realizing they could be an underutilized resource.
Illinois College seniors Jacey Nall, Ace Robinson, and Taylor Vieira collaborated with JREDC to produce "Implementing Geofencing at Jacksonville Regional Economic Development Corporation." Using employee-centric data provided by JREDC on locations, commute times, and benefits, the students researched how geofencing could be used to attract and retain workers for manufacturing jobs.
A geofence is an imaginary border drawn around a prescribed area by a GPS tracking system. Once a geofence is created, it can function to trigger alerts and events as people cross the border or as a territory for targeted marketing actions.
"It was a pleasure to meet and listen to ideas presented by Illinois College students who engage in work on behalf of the Jacksonville Regional Economic Development Corporation," said Kristin Jamison, President, JREDC. "Gaining new perspectives is valuable in an ever-changing economic landscape, and I appreciate the effort of these three students in offering techniques to increase our regional workforce."
Jacey Nall graduated in May with a degree in Business Administration with plans to attend aesthetician school at the Skin Institute of St. Louis. "This project was a requirement for our Senior Capstone class which we have to take as business majors," said Nall. "This project was definitely difficult. For my major, it is important to be professional, knowledgeable and prepared whenever you are presenting information. This project made me be all three of those characteristics and allowed me to push myself even when things were tough."
"I think research like this is important for students to do because it really pushed us," said Nall. "We honestly didn't know where to start or look, but we knew we had to find something. So having a project like this that really pushes your research skills is important for anyone pursuing any career!"
Ace Robinson had similar takeaways. "Professor John Drea implemented this amazing project in our senior seminar. The group and I didn't know about geofencing, but now I could tell someone the basics and more about it."
Robinson, also a May graduate, majored in Business Administration with a concentration in Marketing and minored in Art. In August, Robinson will start a master's program in Business Administration with a concentration in Entrepreneurship at the University of Louisiana at Lafayette. In the meantime, Robinson is working full-time as an assistant manager in training for Sherwin Williams.
"This project gave me the experience and knowledge of what to expect after graduation," said Robinson. "It made me feel more confident and comfortable talking with clients and future businesses. This was an amazing experience. Although it was very challenging, I think everyone left with knowledge of geofencing. I thank JREDC and Illinois College for giving me this opportunity."
While the students were quick to point out the benefits this project had for their education, their objective was to present solutions to JREDC. For workforce attraction, they discussed the role of geofencing in on-demand staffing services, commonly referred to as mobile marketplaces, that allows businesses to hire temporary workers for single shifts or short-term positions. Targeting areas for recruitment where numbers show a decreasing population, such as New York and Los Angeles, was presented as well. For workforce retention, the students suggested using social media geofencing software to target workers in the area for annual employee events.
For more information about the study and workforce solutions, contact JREDC via email or phone 217.479.4627. Additionally, JREDC can provide information on available buildings and sites, financing and incentives, labor market information, tax information, demographics, traffic counts, retail sales data, economic indicators and trends and zoning information.
JREDC's Employment Opportunity page is a no-cost resource analytically proven to be a valuable "one-stop-shop" benefiting local employers and job seekers alike.