Illinois College's Nursing Program Meets Needs of Jacksonville, IL Region
Monday, April 05, 2021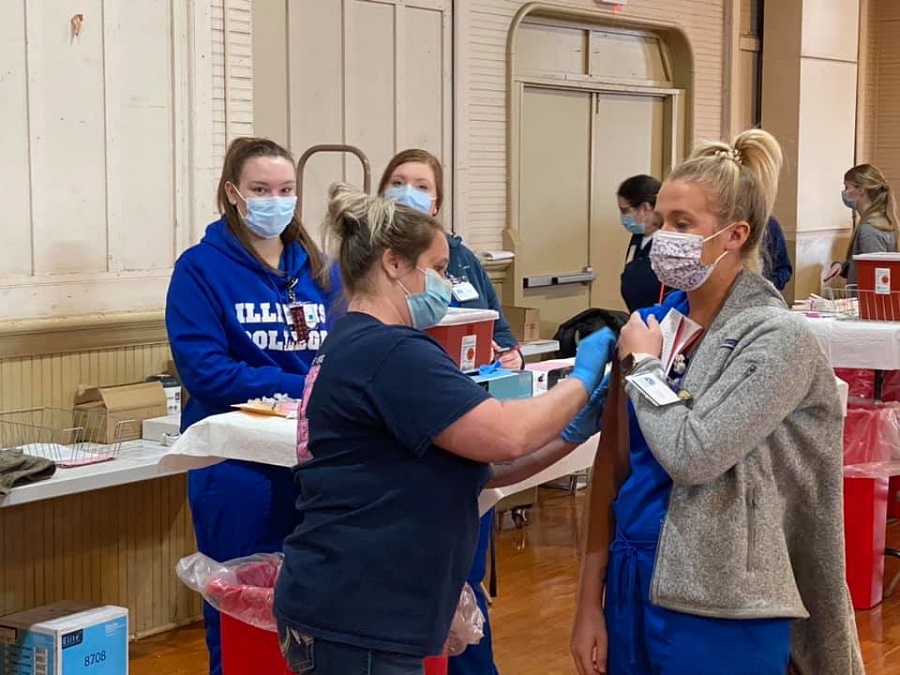 In 2020, to help meet the urgent needs of community and regional health care providers, Illinois College (IC) added a traditional four-year track to the Bachelor of Science in Nursing (BSN) program. Graduates from the program are fully prepared to take the national licensure exam to become registered nurses (RNs). This track is in addition to the College's online RN-to-BSN program that launched in 2019. For working RNs, returning to school to earn the BSN can lead to career advancement through increased leadership roles and salary, as well as open the door to careers such as a nurse educator, public health nurse, or other specialty.
"With this expansion of the BSN program, Illinois College continues to demonstrate its commitment to serving students by preparing them to become leaders in health care," said Barbara A. Farley, Illinois College President. "Our nursing students have access to cutting-edge labs, hands-on learning resources and expert faculty. They are engaged with the Jacksonville community and dedicated to developing the skills needed to provide compassionate, patient-centered care."
The addition of the four-year nursing degree at IC also helped fill a void created by the closure of MacMurray College and its clinical nursing program. The IC program allowed all MacMurray students in good academic and social standing to be eligible for transfer benefits.
Illinois College's nursing program is approved by the State of Illinois Department of Financial and Professional Regulation. Currently, IC holds new candidate status with the Commission on Collegiate Nursing Education (CCNE), and hosted an evaluation visit in October 2020.
In March 2021, IC was awarded a $237,750 CARES Act grant to support the new clinical nursing program in recognition of its future economic impact on the region. The grant and matching funds from IC will total nearly $300,000 in investment in the region.
The grant will ultimately support the placement of more than 1,000 nursing professionals into future jobs in the region by helping to fund a state-of-the-art nursing lab on IC's campus. The grant will help with the purchase of innovative equipment and patient care simulators. The grant will also support the training of certified nursing assistants and licensed practical nurses through a partnership between IC and Lincoln Land Community College (LLCC).
IC's partners for the project include LLCC, Memorial Health System, Passavant Area Hospital, Illini Community Hospital, the Two Rivers Economic Development District and the Jacksonville Regional Economic Development Corporation (JREDC).
When asked about Passavant Area Hospital's role in the nursing program, Leanna Wynn, Affiliate Vice President and Chief Nursing Officer of Passavant Area Hospital, said her hospital provides the clinical experience site for Illinois College nursing students. "We also provide Masters-prepared registered nurses who can assist as part-time faculty to meet the faculty needs of a nursing program."
Additionally, she said they hire nursing students as patient care technicians which provides them employment and additional experience. There are also internship opportunities available.
"We have a paid summer internship program for nursing students who have completed their junior year of study," continued Wynn. "This program allows the student to be partnered with an experienced registered nurse to gain additional knowledge and understanding of the registered nurse role. We also offer Healthcare Career Education Grants to provide financial assistance to registered nursing students attending Illinois College."
"Illinois College's Nursing Program is crucial to our ability to hire registered nurses with bachelor's degrees locally at Passavant Area Hospital," said Wynn. "In nursing, it is common for nurses to seek employment in the area where they have received their education. In addition, students who live in our area have a nursing program to attend. The Illinois College Nursing Program provides us with the ability to recruit and hire registered nurses to meet our employment needs."
"The rapid growth of our program and the accomplishments of our students and faculty are inspiring," said Farley. "I have no doubt this program will have a positive impact on Jacksonville and ensure greater access to top-notch health care throughout the region. Illinois College is thrilled to be a partner in this work. I look forward to seeing what graduates of the IC nursing program accomplish in the future."
Jacksonville Regional Economic Development Corporation (JREDC) is Eager to Assist
The JREDC is your time-saving connection to resources to accelerate your project by providing the facts and figures businesses need: statistical data, general community data, topic-specific information and comparative data. Email JREDC or phone 217.479.4627 for information today.